The Session has authorized the resumption of in-person Sunday morning and evening worship services, as well as Wednesday prayer meeting and Bible study.
Individuals in at-risk health groups (including the elderly and sick) are encouraged to continue watching the livestream and not attend in person.
Parents are encouraged to use good judgment in bringing young children.
The nursery will remain closed at this time.
Sunday School Communities will continue to meet via ZOOM only.
Feel free to wear a mask.
Entering and Exiting
Please arrive early to allow time for seating
Enter via Creation Plaza (portico entrance).
Exit via the sanctuary vestibule doors.
If necessary, use the wheelchair ramp entrance/exit.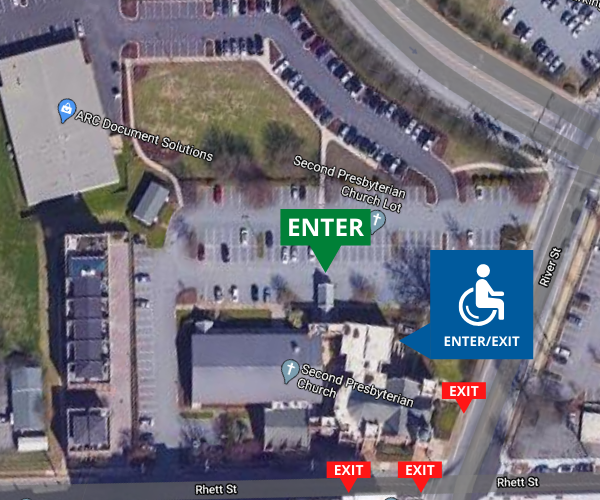 While in the Sanctuary
Select an available seat (red) while maintaining social distancing.
You may be asked to move seats to ensure proper social distancing.
Ushers are available to assist you in finding a seat.
Additional seating will be available in the Chapel and Gym (if needed).
Tithes and offerings may be placed at the collection points (stars) placed at the entrance and exits.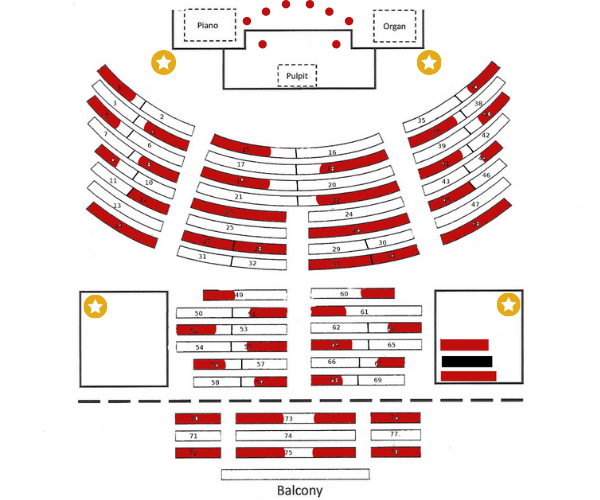 Other Details
Hymnals and Bibles have been removed from the Sanctuary.
Bulletins with Scripture and Hymns will be provided.
Hand sanitizer has been placed throughout the building (bathrooms, hall, and entrances).
Deacons and Ushers will clean between services.
Communion remains suspended for the time being.
Learn more about Second Presbyterian Church's response to COVID-19 here
Watch the latest updates from Mel Duncan, Church Administrator, here